Training Program on Child Rights for DANICS Probationers
Continuing its efforts to build systemic capacity on the issues related to children and bringing focus on child centric governance, the Commission organised one-day training on child rights for the 58th and 59th batch of 30 DANICS probationary officers. The training was organised in collaboration with the Union Territory Civil Services Institute.
These officers will play critical role as Sub-Divisional Magistrates, and District Magistrates in conducting rescue operations for child labour issues, review the functioning of Child Welfare Committees and act as grievance redressal authority in certain matters among other things. The training session was facilitated by Sh. Anurag Kundu (Chairperson, DCPCR), Ms. Bharti Ali (Co-Founder, HAQ Centre for Child Rights) and Sh. Anant Asthana (Eminent Child Rights Advocate).
The training focused on the functioning of various institutions such as Child Welfare Committees, role of district administration especially SDMs and DCPUs (District Child Protection Units). It also helped probationers in building legal understanding of child rights laws such as the Juvenile Justice (Care and Protection of Children) Act 2015, Child and Adolescent Labour (Prohibition and Regulation) Act, 1986 etc. Rigorous discussions were held on topics such as the rescue and rehabilitation operations for vulnerable child labourers, process of age determination, powers of CWC and SDMs etc. The facilitators used case studies, group work and role playing to make the program engaging and enriching for the probationers.
Of particular highlight was the discussion led by Ms. Bharti Ali on the planning of child labour rescue operations and associated complexities. Advocate Anant Asthana delved deep into the nuances of Juvenile Justice Act through a series of real-life based mock activities. This helped probationers develop an understanding of not only statute and role of various stakeholders but also the role of ethics and compassion while applying the law.
The probationers also had a chance to learn from the experiences of Chief Guest Sh. Vijay Kumar Dev, Chief Secretary, GNCTD; Guest of Honour Sh. Bhupinder S Bhalla, Additional Chief Secretary, GNCTD and Dr. S. B Deepak Kumar, Secretary Services cum Director UTCS, GNCTD.
Highlighting the importance of child rights and child protection as sectors, in his inaugural address, Sh. Vijay Kumar Dev, Chief Secretary, GNCTD stated that, "Usually, infrastructure, law, revenue etc are considered more important sectors than women and child development. This shouldn't be the case as children should always be our main concern. Empathy is very very important. We don't require sheer brilliance. The brilliance needs to be polished further with empathy towards children, especially the vulnerable children. It is my expectation that all child related laws and policies should be on your tips. Learn them like you have to clear an exam based on just these."
Sh. Anurag Kundu, Chairperson, DCPCR in his concluding remarks advised all the probationers that, "All of you need to observe the functionalities. Visit the children's homes and institutions and get to live the JJ act. Be a part of rescue operations and live the reality. Visit the CWC and silently from a corner observe all that takes place on an everyday basis and then take note of one practice that you probably like and one practice that you would like to change as the DM."
Post the training session, probationers felt a sense of clarity about their knowledge of laws related to children and more empathetic towards the cause. According to one of the probationers, ''At no other place were we taught legal provisions with this kind of depth. It was a great learning experience since we also came to know about what child welfare committees can do and how to behave on ground." Another probationer remarked, ''Inputs from DCPCR gave me a practical and comprehensive approach towards the issues of today. The session was extremely interactive rather than a lecture. This session will help me take forward the idea that each child is a life in itself.
Sh. Bhupinder S Bhalla, Additional Chief Secretary, GNCTD concluded the day with the following, "As public servants, you will face a unique set of challenges. The district administration today is wider and bigger than what it was 25 years back. Things have changed and Covid 19 has itself brought along its own set of challenges. It has fortified the importance of the positions you will hold. The basic aspirations of the people have changed, they are much higher today than what they were. You need to rise to their expectations from the very first day. If you are entering the sphere of government service, society and its people should be your primary focus.''
Training of newly appointed members of Child Welfare Committees and Juvenile Justice Board
The Commission in collaboration with the Department of Women and Child Development (WCD), Govt of NCT of Delhi, organised 5 day training programmes in 2 phases, for the newly appointed members of Juvenile Justice Boards (JJBs) and the Child Welfare Committees (CWCs) and District Child Protection Officers (DCPOs) in February and March, 2021. The training programme was designed with the help of resource persons from HAQ-Centre for Child Rights, Counsel to Secure Justice (CSJ) and Shri. Anant Asthana, Sr. Advocate, Supreme Court of India.
The training focused on building nuanced positions of the law and covered all important constituents of Juvenile Justice Act, 2015, Model Rules, 2016 and POCSO Act, 2012 specifically meant for the Juvenile Justice Board, Child Welfare Committee and the District Child Protection Units. Through various case studies, the training familiarized the trainees with their roles, powers and obligations as per the JJ Act 2015.
Besides these discussions were held on important Supreme Court and High Court judgements. Hon'ble Justice Mr Madan Lokur in his keynote address during the inauguration of the training stressed on the importance of understanding psychology of children for every stakeholder. He reminded the trainees that the essence of Juvenile Justice lies in the rehabilitation of the children. Hon'ble Justice (retd.) R.K Gauba and Justice Rajiv Shakdhar, sitting judge of Delhi High and Chairperson, Juvenile Justice Committee, also addressed the trainees during different stages of the programme.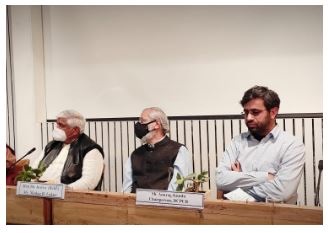 Workshop on Capacity-Building of Educational and Vocational Guidance Counsellors (EVGC) of Department of Education, Govt. of NCT of Delhi
The socio-emotional well-being of children is a key concern area of the Delhi Commission for Protection of Child Rights (DCPCR). On 25th November 2019, the DCPCR organised a workshop on Capacity-Building of Department of Education Counsellors (EVGC) of districts West-A and West-B in Strengthening the Understanding of Mental Health Needs & Forming an Effective Support System for Students in collaboration with Room to Read NGO.
Awareness Workshops on Gender Sensitization & Adolescent Health in collaboration with Y P Foundation
The workshop was organized at R.P.V.V., Hari Nagar (Classes VI-VIII) in the months of November and December 2019. The sessions included discussion on physical (puberty, menstruation, health & hygiene, etc.); emotional (attraction, 'sense of self, self-image, decision-making etc.) and social changes (clarity of concepts of 'sex' and 'gender' & associated stereotypes) during adolescence.
Besides, awareness of the third gender, breaking of myths associated with adolescence and gender violence constituted a significant part. Through role-plays, action songs, energisers and various other participatory activities, the children developed a better understanding. Moreover, a group of 30 students would be presented with a programme in the school on 25th January 2020 to share their learnings and key messages from the two-month workshop.
Child Friendly Delhi Initiative in collaboration with the Kailash Satyarthi Children's Foundation
Child-Friendly Delhi initiative was undertaken to generate awareness about the menace of child labour as it persists in the city, besides creating leadership amongst children to take action at individual and community level.
On 12.12.2019 DCPCR organized a State Level Programme to launch the Mukti Caravan wherein Hon'ble Minister Social Welfare Shri Rajendra Pal Gautam flag of Mukti Carvan : Campaign on Wheels at Delhi Secretariat which travelled to different parts of the city for sensitization of the community through Nukkad Nataks, cultural programme.
A dedicated vehicle under the said programme was rolled out for reaching the masses in different parts of the city. This program was attended by the Senior Officers of Labour, Revenue, Police, WCD and NGO's. After that the Mukti Caravan campaign was launched at District Level by MLA Shri Sanjeev Jha on 13.12.2019 at Burari Govt. School till 31.12.2019. The Mukti Caravan campaign covered 10 schools, 17000 students and 5600 Members of the Community supported the campaign.